How To Research A Real Estate Market (For Free)
Without access to a paid research database, market research can be pretty tough.
Companies like CoStar, Yardi Matrix, and Real Capital Analytics are all great resources to find real estate market data all in one place. But if you don't have access to these sites through a company subscription and you're looking to access this data on your own, subscriptions to these databases can be pretty costly for individual users, and usually don't make sense for a first-time investor.
Fortunately, if you don't have access to these databases, all is not lost.
There are a few great alternatives to these paid tools that you can find for free online to help you run a more accurate analysis of the deals you're underwriting, and you don't have to shell out thousands of dollars to do it.
So to help out with sifting through all the information that exists out there on the internet today, in this article we'll walk through my top three free alternatives for market research that you can use to underwrite properties, and where you should be looking for each. You can also watch the video version here:
Real Estate Underwriting Breakdown
Real estate underwriting is a two part process.
Part one is making sure you have your current property information right. This includes your in-place rents, historical expenses, current vacancy, and anything else that is going to affect the operations of your deal from the time you take over the property.
But from there, once you have all of your in-place information in your model, part two can get a little bit more tricky.
This is the part where you're starting to have to make projections about the future, which unfortunately isn't as easy as using as-is information from a rent roll or T-12.
Getting these projections right starts to get really important, especially when you're planning a major renovation or lease-up for a commercial deal. And with that, finding reliable information is a big part of coming up with an accurate valuation of the property you're analyzing, and what you should be paying for the property in the first place.
Where To Find Free Real Estate Market Research
Like I mentioned in the beginning of this video, paid resources make market research easy, but not everyone has access to sites like this at their fingertips.
And if you don't have access to these sites, the next step is to search for free resources online, and there are a few reliable sources that I'd recommend starting with.
Brokerage Research Reports
First on this list, and the first place I'd recommend going when looking for market data, is to search for free market research reports released by the major brokerage firms, specific to the geographic location you're analyzing and the time period we're in.
The big firms like CBRE, JLL, and Cushman & Wakefield have massive research arms of their companies, and generally put out quarterly, semi-annual, or annual market reports for each of the four major product types (office, retail, industrial, and multifamily).
Within these reports, you can usually find the most up-to-date information in your region on things like market rents, vacancy rates, construction pipeline reports, and net absorption. And with that information, you can then use this to make assumptions about what might happen on the specific deal you're analyzing, and where the property compares to the market as a whole.
These reports often also include information on major lease and/or sale transactions, which can also give you more insight into what you might be able to re-lease space for at a deal you're analyzing and what your offer price should be on a new acquisition opportunity.
If there's a major market out there that hasn't been covered by the first three firms on this list, it's a good bet that one of these other shops will have at least high-level information on the metrics you're looking for.
Sites Featuring Properties For Lease
These brokerage reports will give you helpful information on a market as a whole for a specific product type, and will give you a great head start for some of the macro assumptions you'll need to make in a real estate financial model.
However, one of the biggest drivers of projected returns, especially if you're planning to renovate apartments and raise rents at a multifamily property or re-lease a big commercial suite at an industrial, office, or retail deal, is going to be your re-leasing market rent assumptions.
Since rents can vary so widely depending on the micro-location within a submarket and the condition of the property being analyzed, this generally requires a little bit more granular data to get comfortable with.
And to get that granular data, if you're only working with free resources, your next stop to get more information on market rents in a specific locations is going to be listing sites that feature currently available real estate for rent, and the asking rental rates for these properties, as well.
Multifamily-Focused Sites
For multifamily properties, sites like HotPads.com will allow you to search for a specific address, browse units for rent in the area, and see asking rates for each property listed on the site.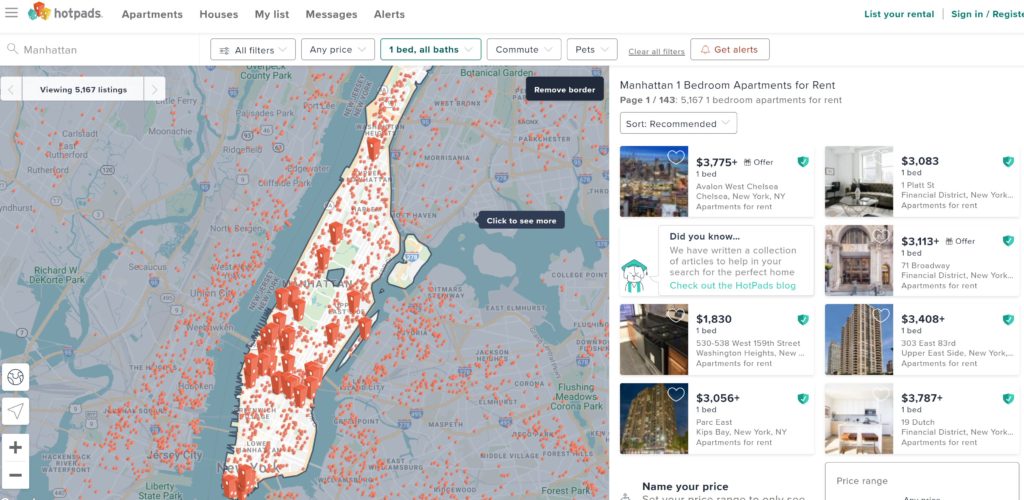 These sites will generally include the number of bedrooms and bathrooms in each unit, the square footage of each unit, and also pictures of the unit as well, which will give you a better idea of where the property you're analyzing compares from both a size and quality perspective.
From there, you can use that information to come up with both what current market rates are for the property that you're analyzing, and also the rents that you might be able to charge if you completed a renovation on the unit interiors and/or common areas.
And if you're looking for additional historical rent data for your multifamily deal, not just asking rates for currently marketed space, publicly available (free) information is out there, too.
Zillow offers historical rental values broken down by zip code for free on their website. This allows you to not only see current rates in the area you're analyzing, but also historical data that goes back as far as 2014 in most markets that are tracked.
And if you're looking to get even more granular on historical multifamily rates, Zumper tracks historical rates by number of bedrooms for many major markets across the US, again showing data all the way back to 2014.
Commercial Real Estate-Focused Sites
If you're looking for commercial rental rates, this information can be a little harder to come by.
LoopNet is one of the best free resources out there, and will allow you to see asking rental rates on a per square foot basis for comparable office, retail, and industrial properties in a specific area. Again, this is information you can use to compare to the quality, location, and overall desirability to tenants of the deal you're analyzing, which is critical in making sure your underwriting assumptions are accurate.
LoopNet is by far the leader in this space, but competitors are popping up more than ever today. A quick Google search for "commercial real estate for lease" in your area will get you started with quite a few helpful data points to take a look at and add to your analysis.
Current Comparable For-Sale Property Listings
Once you've taken a look at these listing sites and you've compiled data from the big brokerage firms, there's one more source that can be really helpful when putting together market information, and that is other marketed deals themselves.
If you're analyzing a marketed property for sale, it's likely that you'll already have some market information in the package presented to you by the listing broker. But if that's not the case, or you want to add to your existing research data, other properties for sale in the market can give you great insight into the kind of rents, vacancy numbers, and rent and vacancy changes you might expect to see on a deal you're acquiring.
Again, the major brokerage shops like CBRE, JLL, and Cushman & Wakefield will be great sources of active listings on their websites, and third-party sites like LoopNet also have current listings that can help add to the data you're trying to put together.
Offering Memorandums
One reason why offering memorandums tend to be so helpful is because these generally pull data directly from the paid databases we talked about in the beginning of this video.
So although you can't always pick and choose the exact information you want to see presented in the investment package, OMs will generally have an entire "market" section dedicated to what's going on in the immediate area, developments that are both planned and under construction, occupancy rates for the specific product type being sold, where rents are trending in the market, and many other factors that might impact the rents you can expect on your deal, the vacancy you can expect on your deal, or where both might go in the future.
Historical Financial Statements
Aside from the offering memorandum, if you're looking for more granular operating data, historical financial statements on marketed deals can also be great ways to benchmark how your deal might perform in the future.
This could mean looking at current occupancy levels, analyzing historical expense line items to see how the current operations of your deal measures up, or anything else that would be comparable and help you make projections about what might happen on the property you're analyzing.
The Bottom Line
As with any of these resources, the goal here is to gather actual data that can help you make projections around how the property you're analyzing is going to perform, and what you can expect both now and in the future.
Fortunately, even if it's harder to find, this information is generally available for free online if you look around hard enough.
And if you're looking for more guidance with the underwriting process that ties all of this market data and allows you to analyze and value commercial properties, make sure to check out Break Into CRE Academy, which will give you instant access to our library of real estate financial modeling and analysis courses, access to our library of real estate financial models and training files, and one-on-one email-based support to help you navigate the next step in your career.
Thanks so much for reading, and good luck with your market research!